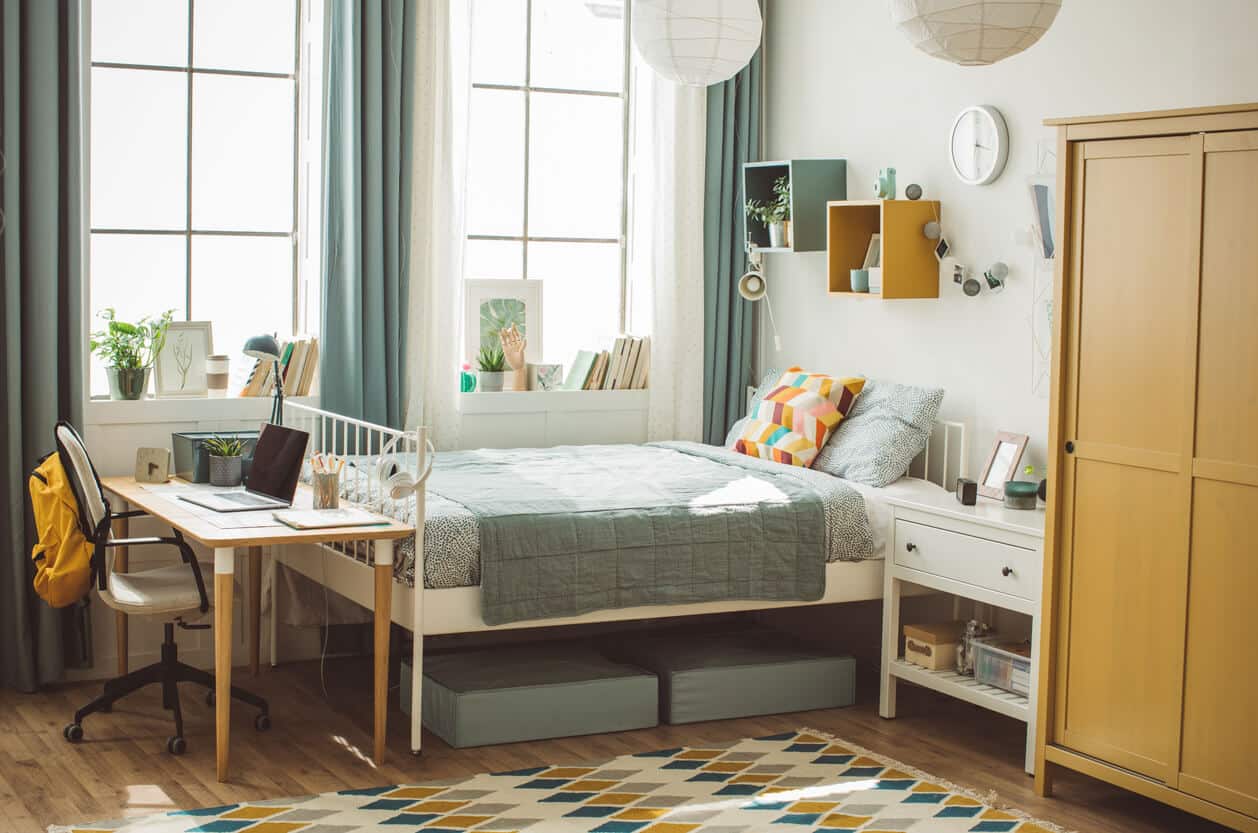 As summer comes to an end, many college students will be moving back to campus dorms or off-campus housing. Students living in Allston, MA attend a variety of local colleges such as Boston College, Boston University, Harvard University, and MIT.
Most college students have smaller rooms or share homes with their peers.
Since you'll be working with less space, it is important to learn how to optimally organize a college dorm room. With a few simple tips, you can make your living area feel as comfortable and spacious as possible.
1. Go Vertical
When organizing a college living space, think vertically. You only have so much horizontal space available in a small room, so you need to maximize every inch of your vertical space with over-the-door towel racks, hanging baskets, shelves, and over-the-door shoe racks. You can also hang wire shower caddies on the wall to store pens, hair clips, and other small items.
2. Shower Caddies
In most dorm rooms, the showers and bathrooms are completely separate from your room. Rather than struggle to carry an armload of shampoo, toothpaste, curling irons, and make-up in your arms, invest in a good shower caddie. In addition to making shower time a little easier, this tip will also help you organize your toiletries when they're in your room.
3. Maximize Your Under-the-Bed Space
When organizing a college dorm room, you need to use up every square inch of space you can find. You can use thin totes to fit clothes, books, and other items underneath your bed. If you have the budget, you can purchase risers to lift your bed up, so you can slip shelves underneath as well.
4. Organize Your Closet
Instead of using wire coat hangers to organize your clothes, invest in a hanging closet organizer. You'll be able to fit more clothes into the same amount of space. Plus, hanging closet organizers are significantly cheaper than getting a second dresser.
5. Add a Desk Hutch
A desk hutch is basically a set of shelves you can place on top of your desk. While many dorm rooms are automatically outfitted with a desk, they don't always have a hutch. This easy add-on option can help you make the most of the space your desk occupies.
6. Make a Charging Station
Electronics, USB cords, and other plug-ins can easily get mixed up and tangled. By getting a small storage box for your chargers, you can make your space look cleaner and less cluttered.
For an even more convenient option, you can go to your local dollar store and buy some decorative tape. Then, you can wrap the tape around one charging cord and add it to the back of the matching device. By giving each device a different color of tape, you can make finding the right charging cord an easy process.
7. Display Jewelry and Hats on Your Walls
You only have so much counter space in a dorm room. To make the most of your limited counter space, move jewelry and hat collections onto your walls. Hanging organizers help you save space while making it easier to view your entire collection at the same time.
Prepare Your College Dorm or Residential Space for a Great Year
Whether you are organizing a college dorm room, an apartment, or a small home, it's important to declutter your space as much as possible. One of the best things you can do to reduce the clutter is to put your extra items in a storage unit. To learn more about Value Store It's Allston storage units, visit our website today.