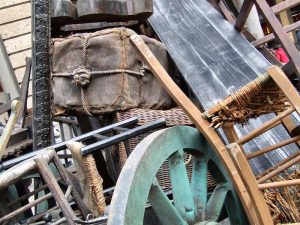 Do you have a good eye for a garage sale bargain, or some inherited furniture sitting in your storage unit? Desks, shelves, doors, and other items can be put to creative use by refinishing them or repurposing them for a new use. Just because you don't like the color of a bookshelf or the style of a bedpost doesn't mean it's time to get rid of it. You can do something good for the environment and for your wallet by turning your old furniture into something new.
Here are 6 items you can repurpose into something that fits your style (and your needs!).
Armoires
Turn a TV armoire into a spare pantry. With a fresh coat of paint (or a new stylish refinishing job), you can use that old TV armoire as a very useful extra pantry. Use it to store dry or canned foods, or store towels, pillows, and other linens. Add a few extra shelves and you've got lots of classy storage.
TV Cabinet (with old TV and wiring removed)
Do you have an old TV cabinet stowed away in your garage or attic? TVs have come a long way since the days where they were housed in circa-1960s wooden furniture. But once you remove the old TV and cords, you have a nice, table-height piece of furniture that is perfect for a variety of uses. Use it as a wine cabinet, a mini-bar, a cat bed, or a dog bed for a pampered pooch. The simplest way to refinish the design and style is to give it a coat of primer and then paint it. After that, your creativity is the limit.
Wooden Chairs
Wobbly legs? Broken foot rails? You can repurpose a well built but broken wooden kitchen chair into a porch swing. Chop off the legs, sand it down, refinish the woodwork (if needed) and purchase heavy rope. Fasten it securely to a porch roof with secure porch swing hardware (available at hardware stores), and you've got a cozy spot to read a favorite book.
Library Card Catalog
Years ago, every library in the world contained sturdy wooden card catalog holders with small drawers. With the advent of digital card catalogs and online search features, these well-built pieces of furniture fell into disuse. Many littered back library storage areas for a few decades before finally making it onto the floors of thrift shops. These useful storage units are excellent for storing craft products, for children's toys, and even as a liqueur cabinet.
Bread Box
If you inherited grandma's breadbox but can't find a use for it in your modern kitchen, consider transforming it into a device docking station. With a handy pull down cover and ample storage inside, it's a perfect spot to corral your family's devices and charge them nightly. Drill a few holes in the back for charging cords and you're all set with a tidy device docking station.
Headboard
Are you wondering what to do with your child's old headboard? A twin-sized headboard makes an excellent hook rack for your entry hall. Once the legs have been removed and it's cut down to a comfortable size to hang, all you need to do is drill holes for the hooks. If you'd like to repaint, make sure you use a coat of primer first if you're painting over varnished wood.
Repurposing old furniture is an excellent way to put old items to fresh, creative uses. It's great for the environment and a beautiful way to put old things to new use. If you need some spare space to store furniture you're going to refinish or repurpose, contact Value Store It for affordable self-storage in Florida, New York and Connecticut.