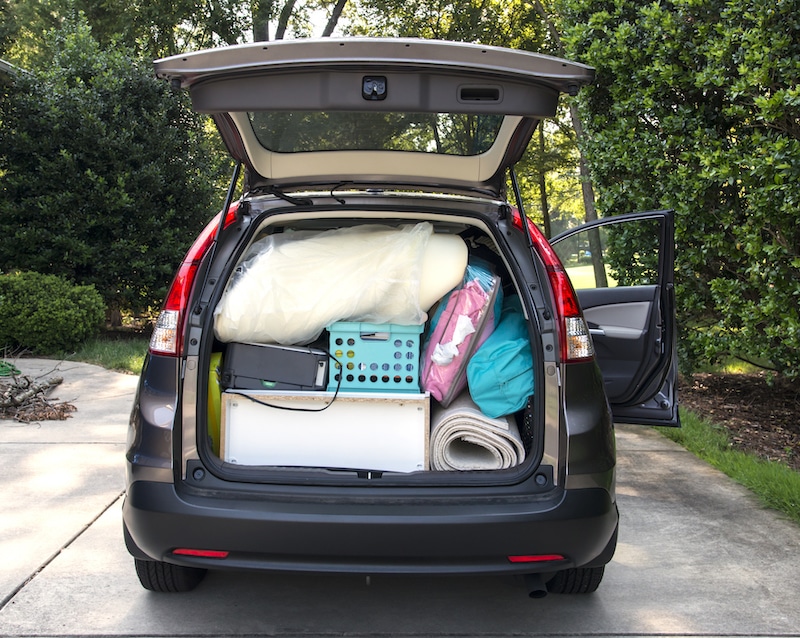 Gearing up to go home for the summer? Or maybe you wish you could be gearing up to leave, but with everything you've got going on during the home stretch of this semester at college, you're barely going to have time to pack.
And amid all your tests, papers, classwork, and finals, the last thing you want to have to worry about is how you're actually going to pack everything in your car and get it where it needs to go.
But where should everything go? Do you take it to your parent's house? Leave it with a friend? Depending on where your parents and friends live, that could be quite the road trip, hauling all your college stuff the entire way. Why not find a place nearby to put your stuff? A place that specializes in dorm room summer storage.
That's where we come in. You're going to need college summer storage that meets your specific needs as a student, a storage company that is flexible and works with your needs.
At Value Store It, we provide storage space for college students with all types of storage needs. From personal items to furniture, we've got the place for you to put it at affordable and convenient locations.
Value Store It is one of the best college summer storage options in Miami. We have multiple Miami locations, perfect for the storage needs of students going to college in the Miami area:
Near The University of Miami:
Little Havana
3141 SW 8th St.
Miami, FL 33135
Near Florida International University:
Miami Airport
7500 NW 25th St. #120
Miami, FL 33122
Near Barry University and Johnson & Wales University:
Miami
9101 NW 7th Ave
Miami, FL 33150
Near Ana G. Méndez University, St. Thomas University, & Florida Memorial University:
Miami Lakes
15320 NW 77th Ct
Miami Lakes, FL 33016
North Miami Beach
901 N Miami Beach Blvd
North Miami Beach, FL 33162
Pembroke Park
2801 John P Lyons Lane
Pembroke Park, FL 33023
Our additional 11 Florida locations are perfect for college students attending school around the state. These locations include:
SW Miami
10900 SW Quail Roost Dr
Miami, FL 33157
Doral
5900 NW 102nd Ave
Doral, FL 33178
Fort Lauderdale
1124 W Sunrise Blvd
Fort Lauderdale, FL 33311
Hollywood
2057 Taft Street
Hollywood, FL 33020
Margate
5185 Coconut Creek Pkwy
Margate, FL 33063
North Lauderdale
8500 W McNab Rd
North Lauderdale, FL 33068
Pompano Beach (East)
500 S Andrews Ave
Pompano Beach, FL 33069
Pompano Beach (West)
2250 N Powerline Rd
Pompano Beach, FL 33069
Virginia Gardens
6113 NW 36th St
Virginia Gardens, FL 33166
Boca Raton
8202 Congress Ave
Boca Raton, FL 33487
Moving Out of Your Florida College Dorm
Listed below are some good tips and tricks for packing, moving, and finding the right kind of dorm room summer storage that will fit your specific needs.
Know your move-out dates
This is important. Scheduling time for all the other things you have to do will revolve heavily around your move-out date. So be very aware of the date you need to be out by. Set a reminder on your phone, or schedule it on a calendar.
University policies will vary on the specific days students will have to move out by. Pay close attention as the semester draws to a close.
Assign the cleaning responsibilities
Most college dorms will have cleaning inspections, especially if you and all your roommates are leaving. The end of the semester before summer is a crazy time because everyone is packing, making plans for the summer, and trying to finish up school work, so it's no surprise that sometimes the cleaning assignments slip through the cracks.
To make sure you and your roommates don't miss anything, and to avoid getting fined, make a list of all the cleaning that needs to be done in your dorm. Then divide up the responsibilities among yourselves. But work together as a team to make sure all the cleaning is done right and done in time.
Pack up your stuff
Give yourself plenty of time to pack. Try separating your clothes and other items into three groups:
The group of stuff you want to put in storage
Things you want to keep with you over the summer (such as clothes or your computer)
Items you don't want anymore
Store your stuff
Summer storage in Miami is so easy thanks to Value Store It. Find one of our many Miami and Florida locations and contact us about storing your college stuff today!