The city of Miami started pretty small. After the Great Freeze of 1894, Julia Tuttle convinced a railroad tycoon to expand his Florida East Coast Railway into the area. She was successful, and the area was officially incorporated as a city in 1896, with a population of about 300. Tuttle is known today as "Mother of Miami," which is now a bustling metropolis of nearly 500,000 people.
But if you include Miami proper AND its metropolitan area, the population goes from roughly 500,000 to over 5.5 million. This boom of growth is why the city is known as "The Magic City." And with an ever-changing culture full of so many unique individuals, it's no wonder there's so much to see and do.
Stuck at the airport with a long layover in Miami? This rich and vibrant city shares close connections to a lot of Cuban culture. From the food you need to try to the shopping and nightlife you can experience, there's plenty of stuff to do in Miami while you wait for your flight, and best of all, you don't have to go far to find things to do near the Miami airport.
We've got a few suggestions for you when it comes to local eateries, shopping, popular attractions, and of course, the nightlife scene.
Must-try Restaurants in Miami
Miami is a bit of a melting pot when it comes to cultures, so it's no surprise that the cuisine features unique blends of different peoples from around the world. If you're an adventurous eater, or if you just appreciate good food, you're going to love what Miami has in store for you.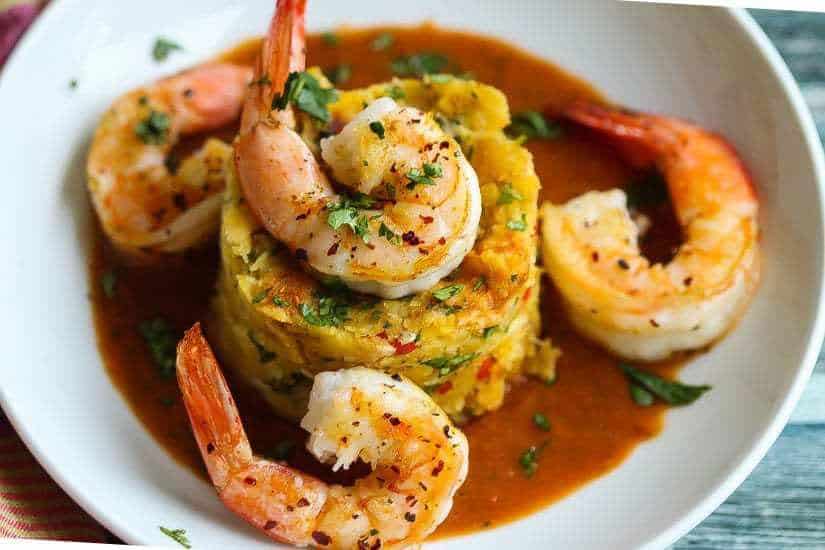 Cafe Versailles, Miami Airport: This Cuban bakery is well-known for its savory sandwiches, sweet cakes, and baked goods. It's so good, it's been named on the list of the top 10 most amazing airport restaurants. Don't believe us? Check it out before you leave the airport. Grab a Guava pastry or a Cafe Con Leche and try it yourself.
CVI.CHE 105: This award-winning Peruvian restaurant is located in the cosmopolitan district of Miami. Their main attraction is their ceviche, a seafood dish usually made from raw fish soaked in citrus juices and seasoned with spices.
Bombay Darbar: Authentic Indian food doesn't get much more authentic than Bombay Darbar. Serving traditional Indian dishes in a vibrant, exotic atmosphere and environment sets this Indian restaurant apart from others.
Mandolin Aegean Bistro: Dining at Mandolin Aegean Bistro is a treat for both the taste buds and the eyes. The restaurant is set in "a quaint Florida home" complete with proper furnishings, which sets the tone for a cultured experience eating sophisticated versions of Turkish and Greek foods.
Itamae: Get a real feel for local tastes and flavors at Itamae. The Japanese-Peruvian take on sushi and other dishes unique to both cultures will have your palate whirling—in a good way. The restaurant is run by a family whose sole focus is developing their personal take on Nikkei, the name for the Japanese-Peruvian fusion cuisine they are famous for
Pinch Kitchen: Enjoy a chill atmosphere at this varied and diverse restaurant. Freestyle American dishes are served here, paired to craft wines and beers. The chefs take pride in working with and serving only locally-sourced, fresh ingredients sure to make your mouth water. The best part about this place? It's a pair and share: designed for couples or small groups to mix and match whatever they want.
La Mar by Gaston Acurio: Guests can enjoy all that Peruvian food has to offer at this contemporary waterfront venue. Enjoy the authentic and diverse flavors of Peru as well as La Mar's specialty cocktails from one of three bars placed throughout the establishment to enhance the dining experience.
27 Restaurant: Looking for even more diversity and variety in your cuisine? Look no further than 27 Restaurant. This place honors all the diversity Miami has to offer in the form of their eclectic menu filled with dishes from the Caribbean, South America, and the Middle East. Come for the laid-back atmosphere, leave with a stomach full of great food.
Alter: Hipster environment with high-end, Florida-inspired dishes? Don't mind if we do. This fun space inside an industrial warehouse creates a unique atmosphere for dining. Come for the vibes, stay for the tantalizing food combinations.
In truth, these suggestions just barely begin to scratch the surface of what Miami has to offer by way of cuisine. Truly. There are a lot of options out there, but outside of the restaurant scene, there are a few Miami culinary specialties you should look into while exploring the city:
Chicharrones: Chicharrones are traditionally made with fried pork belly or pork rinds.
Mofongo: This is a Puerto Rican dish made with fried plantains, which are picked green, fried, then mashed up with garlic, salt, and oil.
Arepas: This dough patty comes from a region of South America and is found most commonly in the foods of Venezuela and Columbia. It is made from cornmeal, salt, and water. After it's grilled, it's cut open and filled with ingredients.
Famous Miami Attractions
Still wondering what to do in Miami? Looking for attractions near Miami airport? If all the talk of food didn't interest you, don't fret. There are other amazing things to see and do in The Magic City.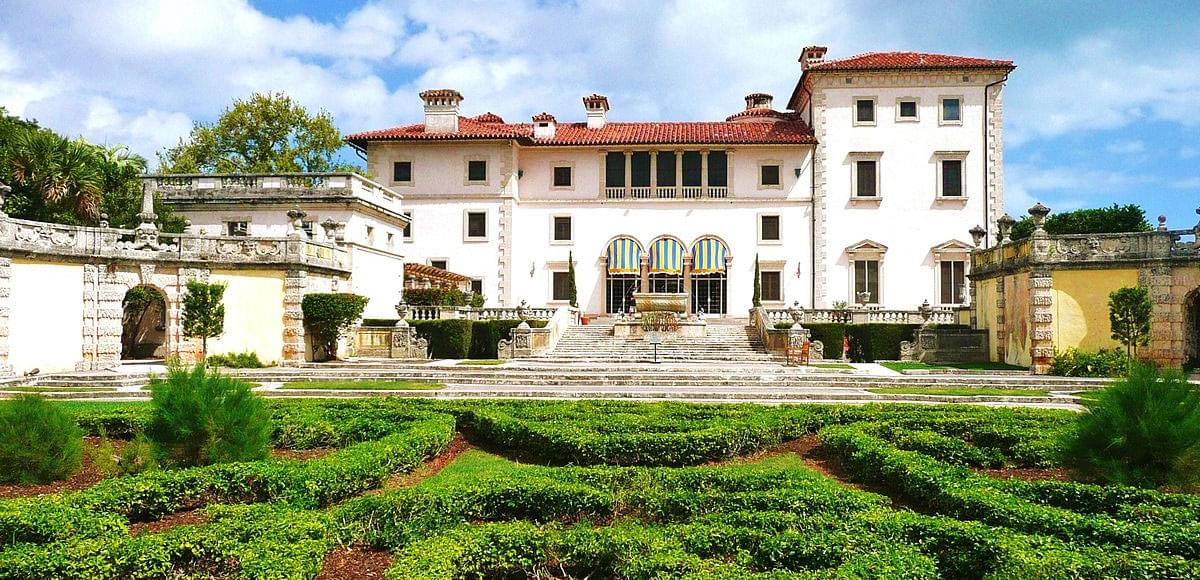 Here's a list of a few things you'll definitely want to check out:
Miami Beach: What's one of the first things you think of when you hear someone say Miami, Florida? Could it possibly be the beaches? Well, it should be if it isn't. Miami is home to several beautiful, white sandy beaches. The most iconic is Miami Beach. With four miles of pristine beach, it's a great place to relax in the sun or catch some waves.
Jungle Island: Jungle Island is an interactive eco-adventure park located on Watson Island. You can interact with all sorts of wildlife at the park, including sloths and lemurs. The park is designed to bring you closer to nature than ever before, so if you're into animals and plants, get excited.
Zoo Miami: Lions and tigers and bears . . . oh yes! The largest and oldest zoological garden in Florida, Zoo Miami has it all. Animals are grouped together in their geological territories, so you can visit the plains of Africa or the jungles of Asia. The zoo has the unique ability to facilitate the foliage and animals from regions in Asia, Australia, and Africa.
Vizcaya Museum and Gardens: Visit the Vizcaya Museum and Gardens for a culturally and visually stunning experience. The 43-acre estate is kept in all its original Renaissance-style glory, complete with European furniture in all of its 34 rooms and art hanging on its many walls.
Little Havana: Visit Little Havana for a taste of Cuban cultural flavor. Try the food, enjoy live music, and explore the art galleries, then order some fresh Cuban coffee from a walk-up coffee shop.
Miami Science Museum: This museum's innovate approach to science and learning has earned it a big, well-deserved reputation. With interactive exhibitions and unique, ever-changing shows, the Phillip and Patricia Frost Museum of Science is sure to be an exciting and expanding experience.
Everglades National Park: If you're up for a short road trip, head south from Miami to explore the swamplands of Florida at the Everglades National Park. It offers visitors 1.5 million acres of land to explore—safely, of course, since the park is home to all kinds of birds, snakes, alligators, and crocodiles. Take an airboat tour of the area and enjoy the fresh air and sights.
Art Deco District: If you're wanting more of a relaxed, easy-going day, explore the Art Deco District of Miami. This historic place is well-known as the district where famous designer Gianni Versace lived. As you stroll the streets, you'll enjoy the nostalgic 1930s feel the streets and buildings give you.
Shopping in Miami
The diversity of the cultures in Miami make for some pretty fun, exciting, and unique shopping opportunities. Take a look at this list of the best places to go shopping in Miami below.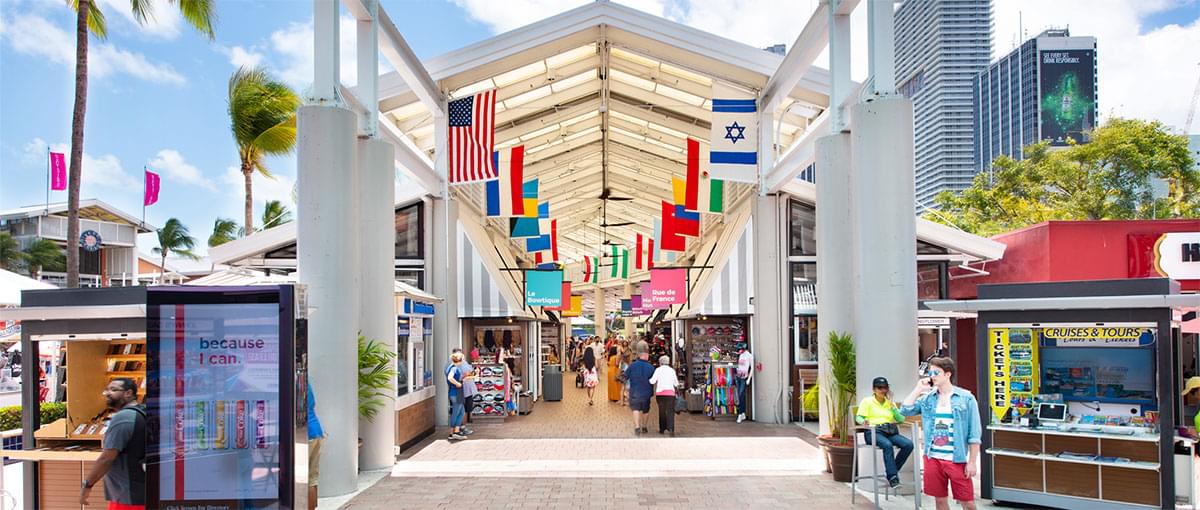 Bayside Marketplace: Bayside Marketplace is actually widely acknowledged as the number one most visited attraction in Miami. You're not going to want to miss out on this open-air, two-story shopping center. With dozens of shops to choose from and a stunning view to boot, this marketplace will be a highlight of your time in Miami. You can also find excellent dining venues around the quay.
Lincoln Road Mall: If you're looking for a shopping experience in the city of Miami, Lincoln Road Mall if your best bet. This mall has a walkable 10 block stretch of dining and shopping options along South Beach.
Miami Design District: This area of Miami is famous for its upscale . . . well, everything. From its architecture to its art galleries, the Miami Design District offers the best of luxury such as high-end jewelry and fashion boutiques, as well as cafes and celebrity-chef restaurants.
The Shops at Midtown Miami: This place has more of an urban mall feel to it. Those who come for shopping can enjoy on-trend retail shops and restaurants. The Shops at Midtown Miami also offer regular outdoor movies.
Mall of the Americas: Trying to find a mall near Miami airport? Mall of the Americas is the one for you. It's an enclosed shopping area just a 14-minute drive from the airport.
Miami airport shopping is also something to be aware of. The airport offers loads of stores and shops to check out.
Nightlife in Miami
As you might imagine for a city so vibrant during the day, Miami has an equally vibrant nightlife scene you won't want to miss out on. Take a look at some of the best places to go for drinks and music.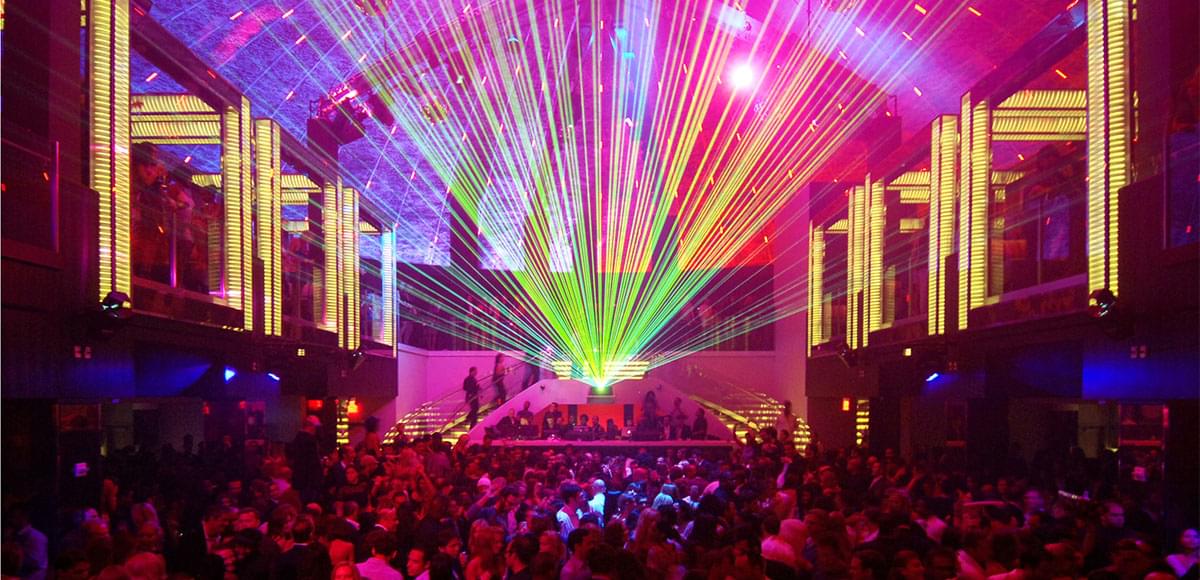 Blackbird Ordinary: This cocktail bar has a dance floor and regular DJ or band performing late into the night.
Purdy Lounge: You come to this club to dance and party. Separate rooms are available for lounging.
Sobe Nightlife Miami: This high-end events booking company offers chauffeurs, limousines, and party packages.
Hyde Beach: With regular events, this luxe outdoor/indoor hotel lounge offers poolside brunch and colorful cocktails.
Storage Options for Extended Stays
Your time in Miami should be nothing short of a blast. With all this city has to offer by way of food, attractions, and entertainment, you're sure to find something you enjoy.
Whether you're in the city for just a few days or you find that your stay is longer than you expected, we've got excellent storage options in nearby, safe, and convenient locations.