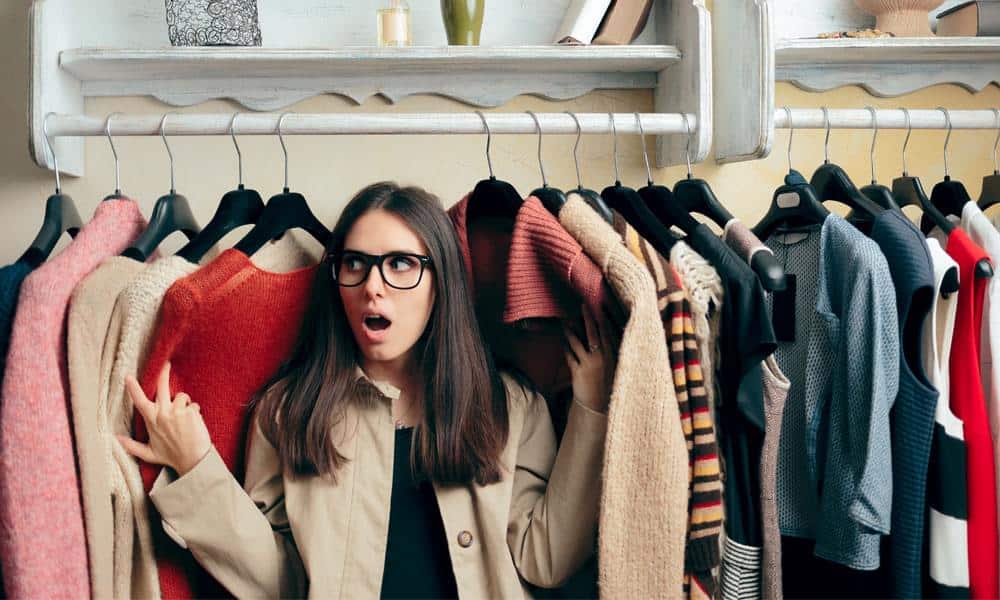 Do you and your family love winter? There's a lot to like about the cold half of the year, from cozy sweaters to racing down the mountain on skis or exploring on snow shoes. Winter requires a lot of gear, whether you're a hard core snowboarder or just trying to stay warm while out and about. Poofy winter coats, ski boots, and winter weather gear can take up a lot of space, especially when they are collecting dust during the summer months. Even if you live in Southern California, Florida, or other places that don't have much of a winter to speak of, you might have a sizeable winter gear collection for ski trips or polar vacations.
So what do you do with all your winter gear when it's out of season? Off-season clothing storage can be a challenge, especially if you're wondering what to do with hand-me-downs that won't fit younger siblings for another year or two. These seasonal clothing storage solutions will help you tuck away and properly store your gear, hassle-free, until you need it.
1. Get a Storage Unit
Not every family has the storage space for bulky winter gear. Save yourself a headache by investing in a storage unit near you as an off-season storage solution. This is a great place to tuck away the gear that's only used for a few months out of the year. People who live in warm areas and who only visit snowy destinations for the snowboarding don't want to keep snow pants, ski coats, boots, and more tucked in valuable closet space. A storage unit is a good option for protecting your possessions and keeping your things in good condition—and out of your hair—until you actually need them.
2. Keep Seasonal Clothing Clean
Winter play can be tough on clothing and gear. Before sending your winter clothes into storage, give everything a thorough cleaning, and leave time for it all to dry out. Otherwise, your seasonal clothing storage will get smelly and even moldy. Some things, such as wool sweaters and scarves, will need to be dry cleaned. Check coat pockets for gum, ticket stubs, and cash. Clean off your boots and wax and polish your skis. Make any needed repairs and remove stains from the last winter season before putting your winter gear into storage.
3. Don't Hang Sweaters
Whether in your storage unit or your closet, never hang sweaters, especially if they are wool. Hanging will strain the knitting and cause your favorite sweater to become misshapen, lumpy, and stretched out. Instead, seal your sweaters inside durable and tight storage containers and stack them up to store on shelves.
4. Keep It Cool
To preserve their quality and longevity, it's best to keep winter coats and other winter clothing and gear in cool, dry, dark storage. Climate-controlled storage units are great for this purpose. It's best to keep clothing stored in a cool place that's about 65 degrees F. It's difficult to clutter up your home with coats and boxes of winter clothes, especially if you have to worry about keeping it cold and dark during the summer's heat. A storage unit is a better and more convenient option.
5. Protect Your Boots
Don't shove your expensive winter boots into a big pile. Stuffing them all in a box together can cause the boots to become misshapen and wear them down. If you can, store them in the original shoeboxes, or buy individual boxes or a shoe rack to store your winter shoes. Tall boots may need to be stored in a boot-form to make sure they keep their shape.
6. Get Fabric Storage Bags
Coats made of leather or suede, or filled with down, shouldn't be stored in plastic garment bags. They need to "breathe" while in winter storage. Instead, for long-term storage over the summer months, choose fabric storage bags to preserve your winter coats.
Seasonal clothing storage can be a challenge, especially for bulky winter gear. These storage ideas should help you keep everything well taken care of when it is put away during the warmer months. If you are interested in finding storage solutions in Massachusetts or Southern Florida for your winter gear, contact us today.