How to Move It: Solutions for Big Items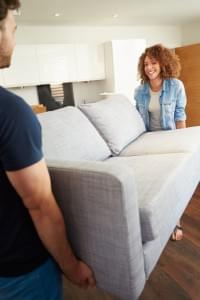 Sometimes you run up against a moving challenge that leaves you scratching your head. Getting a wide sofa through a narrow doorway, sliding a king-size mattress up or down a tight stairwell, moving and protecting your flat-screen television, or packing your entire collection of a gazillion indispensable books are all perfect examples of such puzzling moving conundrums.
Let's start with something just about everyone needs to move—and it often involves navigating up or down narrow stairways: the mattress. Before you start, measure your mattress diagonally (from corner to corner) to see if it will fit in tight spaces. For instance, a standard queen mattress's dimensions are 60 by 80 inches, or 100 inches on the diagonal. A standard king mattress measures 76 by 80 inches, or 110 inches on the diagonal (use the Pythagorean Theorem to get a diagonal measurement for any mattress size). Measure the height from stairs to ceiling to see if you will be able to slide the mattress up or down the stairs without getting blocked by a low ceiling. This is especially important for the box spring, which is rigid.
Use a plastic mattress bag to protect the mattress, and consider purchasing moving straps and bands, which we discuss in this blog post.
To get your couch or sofa into your house, it has to come through a door. It may also have to fit through one or two other doorways once inside before it gets to its final resting place in your moving truck or in your new home. Always measure the width of doorways before starting the move. If necessary, you can remove the feet of the sofa to make it narrower. If you still can't make it fit, the next step is to remove the door from its hinges. The final solution is to hire a skilled upholsterer to take the sofa apart and then re-assemble it inside your new home.
Now that you have some of the larger items moved, what do you do about your flat screen television? You threw away the box it came in years ago, so how should you protect it and store it?
Fortunately, flat screen TVs can be wrapped in blankets or moving pads (rent some from a moving company, if necessary) to keep it from cracking or breaking. Also remember to store it upright. Laying it on its back could mess up the pixels, leaving them distorted when you try to stream your favorite show in your new home.
Finally, let's tackle that mountain of books. In this case, bigger isn't better, as in: do not pack books in large boxes or you'll never be able to lift the boxes later. Use a larger number of smaller boxes for books. Twenty-five hardcover books will weigh around 40 pounds, so by spreading that weight over a number of smaller boxes, you save yourself a lot of wear and tear (hello, knee joints and back muscles!). Use a moving truck to lift boxes of books or remember to lift with your legs, not your back.
When it comes to storage, Value Store It has what you need: self storage units in various sizes (including units with climate control) and convenient locations throughout Florida, Connecticut, and New York. Visit our Homepage now to reserve your unit.