Little Havana: Miami Neighborhood Guide
You don't need a passport to experience the rich culture, music, and cuisine of Cuba. Miami's Little Havana brings the flavor and flair of this Latin American destination straight to the Magic City. And once you experience the sights, sounds, and tastes of this bustling little neighborhood, you'll want to return again and again. Check out these places to eat and things to do in Little Havana in Miami Beach, and learn more about Value Store It for your personal and business storage needs.
About Little Havana: A Cuban Oasis in Miami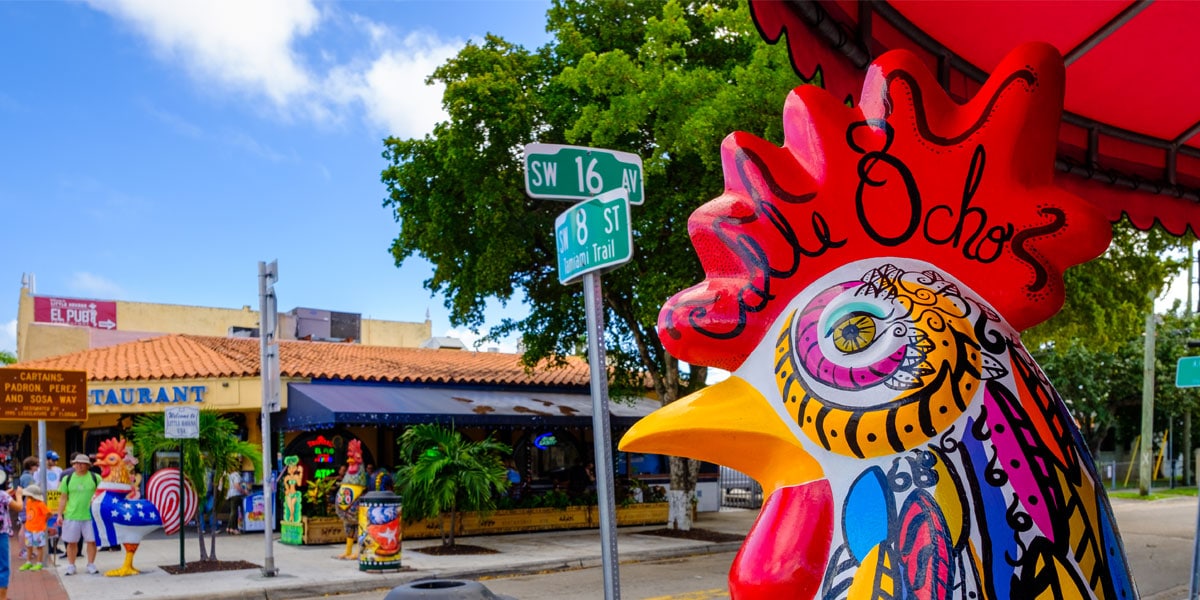 Prior to its transition into an epicenter for Cuban immigrants, the area now known as Little Havana played home to lower middle class Southerners and a large Jewish population. The 1960s brought a sharp influx of Cuban immigrants and refugees to the area, and was named after the largest city in their motherland: Havana.
Today, Little Havana is widely known for its cultural happenings, such as the Three Kings Parade and Viernes Culturales (Cultural Fridays). Locals and tourists alike flock to its streets for authentic Cuban cuisine, landmarks such as Domino Park, and the community's supercharged political fervor. The entire area is buzzing with pride for their Cuban heritage, yet everywhere you turn there's an echo of their resounding gratefulness to call the United States their home.
For Miami, Little Havana represents more than just a tourist destination. It's a place that adds character and history to the city, while carrying on the tradition of fine food and zesty nightlife that remains synonymous with the Magic City. For Little Havana, Miami serves as an anchor to their culture. Together, they create a prime locale that provides the perfect combination of leisure, sports, nightlife, cuisine, music, and culture.
The main thoroughfare, Calle Ocho, boasts one of the largest annual street festivals in the world. With 1 million visitors each year, participants create a spectacle of national pride by donning the flags or colors of their home country, playing a variety of Latin music, and selling popular food dishes from nations around the world. But even when the party's not in full swing, Calle Ocho remains one of the area's must-­see spots among visitors and local folk year-­round.
Top Rated Restaurants in Little Havana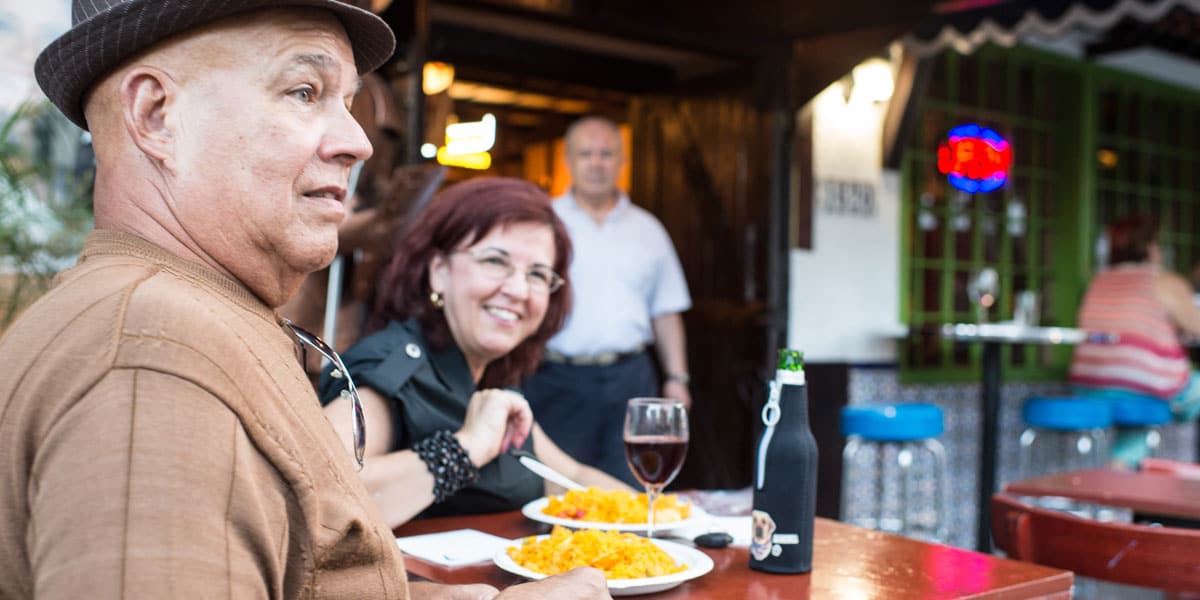 One of the biggest excitements of traveling anywhere new is the culinary experience awaiting your taste buds. Thankfully, you don't have to travel all the way to Cuba to gorge on the fine flavors and unique food creations of the not-­so-­far-­away Latin American nation. Many of the restaurants in Little Havana have been well-established for decades, emerging from the Cuban population boom in the 1960s and thriving ever since. You can count on pure, authentic Cuban food—with a dedication to service to match—along with a variety of tasty options you'd be hard pressed to find anywhere else. Take a look at a list of popular, tasty, and authentic places to eat in Little Havana, Miami Beach.
Things to Do in Little Havana, Miami Beach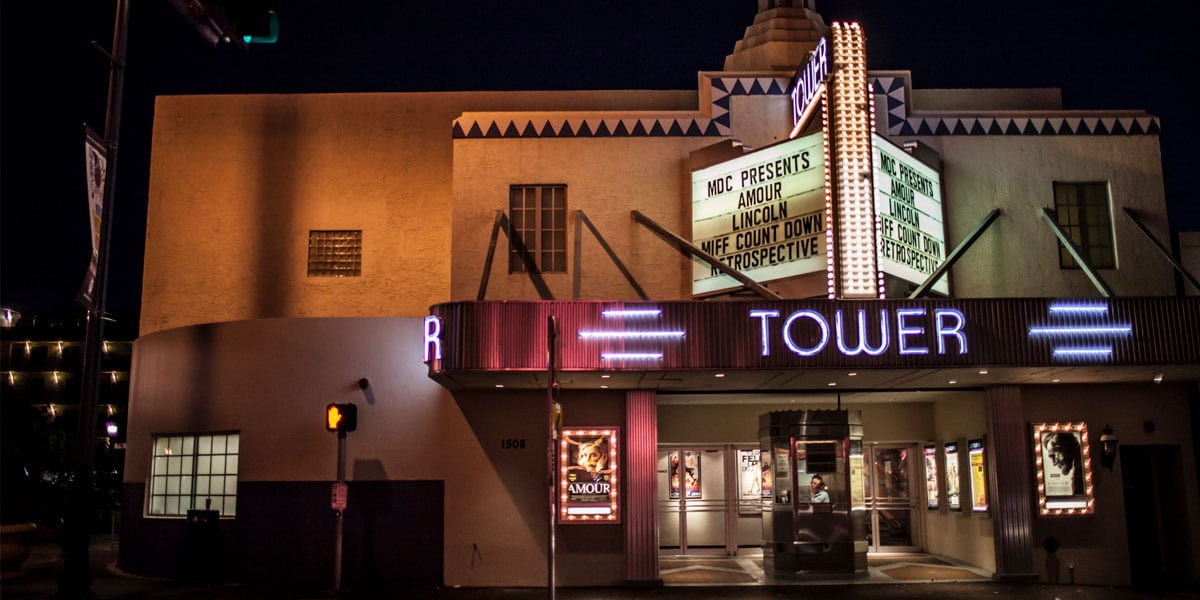 One of the biggest challenges you will face is deciding which things to do in Little Havana of Miami Beach first. Given the area's rich history and cultural context, it won't be difficult to find plenty of points of interest that will keep your itinerary buzzing. In addition, the neighborhood's grid-¬like layout and public transportation system make it easy to move around to the various venues and landmarks on your to-¬do list. Most of the prime attractions reside on or near Little Havana's popular Calle Ocho, but you'll find other areas off the beaten path that are certainly worth a visit. Check out these popular things to do in Little Havana, Miami Beach.
Tower Theater: This cinema is one of Miami's most  historically important landmarks, having served as the first state-of-the-art theater in the south in 1926. During the Cuban population growth in the 1960s, the theater served as one of the first demonstrations of American culture to many immigrants. Today, the theater is managed by Miami Dade College, where visitors can experience a variety of cultural exhibitions, educational lectures from Miami Dade College professors, and Spanish-­ and English-­speaking films.
Bay of Pigs Museum: The Bay of Pigs represented a critical event in Cuban military history, resulting in a botched invasion against Fidel Castro in 1961. The museum serves as a memorial to those Cubans involved in the failed attack.
Molina Fine Art Gallery: This gallery features a beautiful collection of famed Cuban painter Molina's original hand-­painted works. Each of his paintings serves to represent the Afro Cuban culture of his roots, coming through in every brushstroke and hue. The art gallery features an array of replicas and souvenirs printed with Molina's masterworks for you to enjoy long after you leave Little Havana.
Cubaocho Museum & Performing Arts Center: A mecca for both visual and performance art enthusiasts alike, the Cubaocho Museum & Performing Arts Center is a unique experience you won't soon forget. On display are the masterful artworks crafted by Cuban artists in the last century or earlier, with exhibits changing often to bring fresh livelihood to museum guests. The venue also serves as a point of convergence for meetings, events, birthday parties, and weddings.
Maximo Gomez Park (Domino Park): Domino Park is a staple of the community, making it one of the best things to do in Little Havana, Miami Beach. It serves primarily as a gathering place for retirees and older Cuban residents and is located on the corner of Calle Ocho and next to the Tower Theater. The park has long provided a locale for games and storytelling, and its deeply rooted tradition in Cuban culture continues today.
Little Havana Art Walk: A must-­see for those who enjoy music and art, this historic area in Little Havana brings a variety of art galleries, live performances, and shopping into one strikingly beautiful locale. Guests can wander from gallery to gallery, enjoy the sounds of Cuban music from live artists, and become a part of the area's thriving art community.
Calle Ocho Festival: Calle Ocho, which means 8th Street in Spanish, presents the largest Hispanic street festival in the United States each year, playing host to 1 million domestic and international visitors. Filled with contests, tours, live music, tasty cuisine, and a variety of activities, there's no quicker and more impactful way to immerse yourself in Little Havana culture.
Entertainment and Nightlife in Little Havana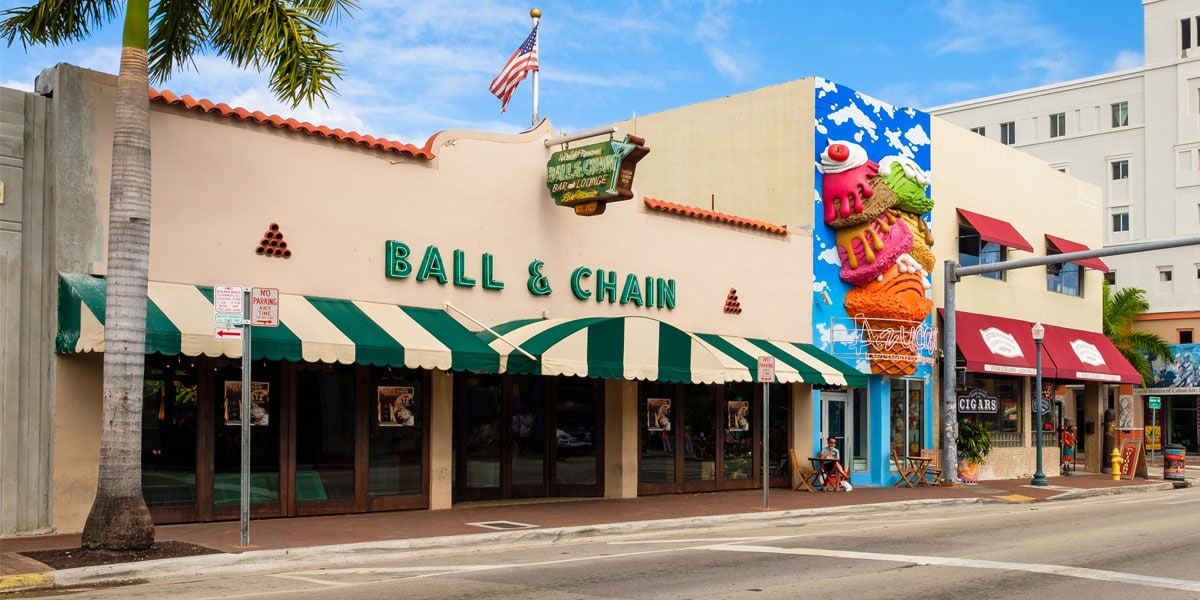 Miami is known worldwide for its sizzling variety of nightlife, so it should come as no surprise that Little Havana is doing its part of maintaining the Magic City's reputation as a premiere entertainment destination. No visit is complete without checking out these top things to do in Little Havana of Miami Beach.
Hoy Como Ayer: Voted Best Latin Club in Miami, you won't walk away from Hoy Como Ayer without learning a thing or two about Cuban music and dancing. There's always much to be celebrated here, and you'll find there's no shortage of talented acts to take the music stage.
Ball and Chain: This historically-­rooted club is your live music destination in Miami. First opening its doors in 1935 as Ball and Chain Saloon, the establishment underwent various name changes, owners, and even shuttering completely before becoming the music powerhouse it is today, boasting the likes of Billie Holiday and Chet Baker gracing the stages in the 1950s.
Clevelander at Marlins Park: Part patio, part swimming pool, part baseball experience, Clevelander at Marlins Park presents a unique leisure combination that makes your entire visit to Little Havana worth the trip. You can experience a Marlins baseball game without having to leave the comfort of the pool, along with a DJ stage, lounging area, 10 HDTVs, and a stunning view of the baseball field.
Shopping in Little Havana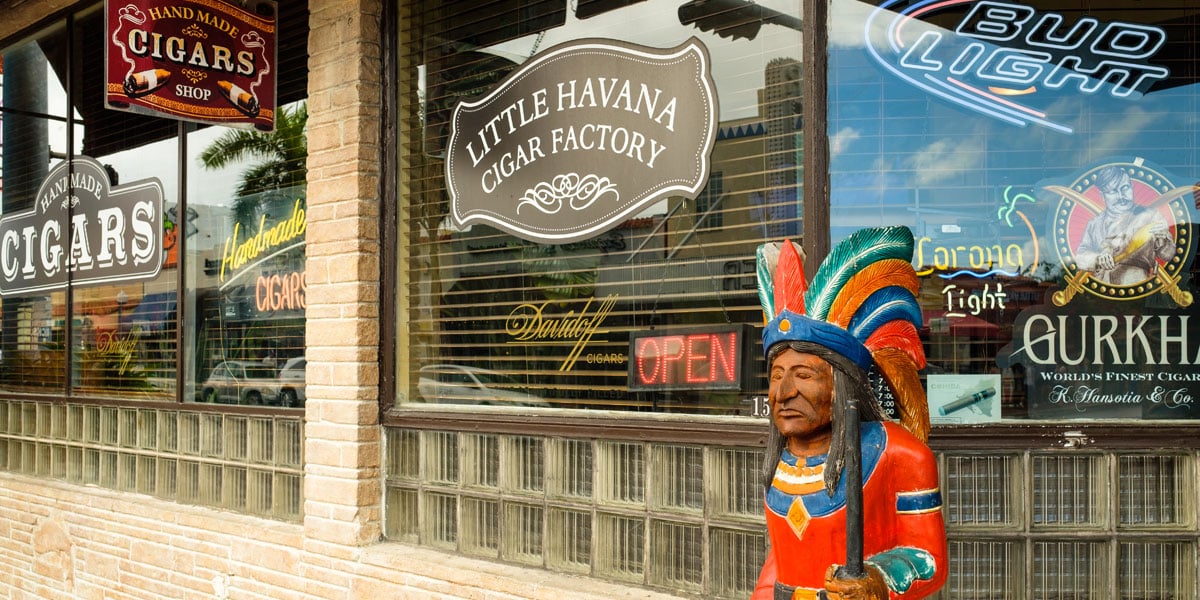 If you need that one single item you forgot to pack in your suitcase or want to stock up on trinkets and baubles for the folks back home, Little Havana offers a variety of unique specialty shops and traditional outposts to ensure you never go without.
Little Havana Cigar Factory: No trip to an area reminiscent of the Cuban motherland is complete without a stop at one of the most iconic industries of Cuban culture: cigar making. Here you can find everything you need to sit back and relax with a handmade cigar, including cutters, lighters, ashtrays, and humidors. They also specialize in pipes and pipe accessories, along with some of the most popular and well-­respected cigar brands available.
Little Havana Gift Shop: Whether you promised a friend back home an authentic Little Havana souvenir or you simply want a little reminder of the trip for yourself, you'll find plenty of variety at Little Havana Gift Shop. Pose for a picture at the giant rooster photo display, then head inside to discover a variety of tchotchkes that allow you to take your own little piece of Little Havana back home with you.
Little Havana Visitors Center: Even Miami locals agree that this visitors center is worth a look inside. In addition to providing guests with information about the area, you'll find an eclectic offering of souvenirs and necessities to complement your trip, such as art, gift items, Cuban coffee, clothing, and antique Coca-­Cola memorabilia, to name a few. Guests rave not only about the quality of the selection here, but also the above-­and-­beyond service they experience every time they visit. For the best coffee in town and an abundant variety of collectible items, you'll want to stop here more than once while you're in town.
Cigar Boutique of Little Havana: Providing an inside look at one of Cuba's oldest and most relied upon industries, this little cigar shop is the site of the former El Credito Cigar Factory. Overlooking the ever-­popular Calle Ocho, visitors can enjoy a fine cigar in the on-­site lounge while relaxing and allowing the day's travel stresses to dissipate. They feature some of the finest cigar brands in existence, with in-­depth knowledge and service to round out your Even if you don't enjoy a good cigar from time to time, the history of the building alone is worth a quick peek inside.
Value Store It
Another of Little Havana's industrial gems is Value Store It Self Storage. When it comes to privately owned self-storage companies in Miami, we offer the best value. If you find a lower price on a unit of the same size and type, we won't only match the competitor's rate, we'll beat it by $5. We provide clean and affordable storage options, truck rentals, and moving supplies, and our experienced staff is always on hand to offer assistance. We also have a business center with conference rooms to aid with document removal and efficient working hours. Contact Value Store It today to reserve your own personal or commercial storage space.