It's a new day and a new town for the hit TV show STORAGE WAR$.
After 5 years on the air and spinoff shows set in NYC, Texas and even Canada, the show is now testing out its latest concept: STORAGE WAR$: MIAMI. If all goes well, the show could appear on A&E soon.
In preparation, the producers of STORAGE WAR$ have been setting up shop at busy Value Store It Miami (9101 NW 7th Avenue), a venue once visited by Spike TV's "Auction Hunters" in 2011. Much has changed since then; the facility now has a brand-new section of drive-up units.
On the show's most recent shoot, two of those drive up units were among the six units up for sale. Over a dozen buyers had signed up for a chance at potential storage booty. Of course, the crowd seemed bigger when counting the production crew. While auctions already tend to be lively, especially when presided by Hammer Down Auctions' ever-colorful Bob Nichols, there was something different about this one. Could it have been the cameras? There is, after all, a principle in science known as the Observer Effect which says the nature of something can be changed simply by being observed (not to be confused with the Heisenberg Principle, which despite popular opinion, has nothing to do with "Breaking Bad").
"Every place they're at we do great, it's spectacular, lots of bids!" says Hammer Down's Jack Ballentine about the change in atmosphere with the TV crews. "There's lots of electricity, but we never forget the human factor. We try to reach them (and collect) but unfortunately this is what it comes to." What Ballentine refers to is the fact that the units go on the block following three months of delinquency.
Television producers in California, where the same storage laws exist, picked up on the idea of a show spotlighting such sale, the people who bought them, and the resale of goods for a profit.  So far, "Storage War$" has had three spinoffs. In addition, there have been two other similar shows: Spike TV's "Auction Hunters" (which just completed its 5th season) and TruTV's "Storage Hunters" (cancelled in 2013).
There's always the promise of finding that "buried treasure" but it's never a certainty. One could find booty or a pig in a poke. That didn't take away from the jocular nature of many buyers, some of whom are rumored to be among the cast of "Storage War$: Miami." Hope springs eternal about the potentially big haul.
I spoke with two young men who identified themselves as Chris and George.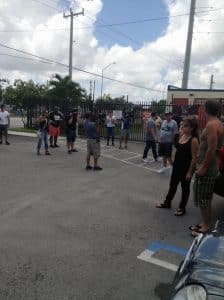 "Anything can happen," Chris says, while the other guy joked he'd find, "Diamonds, gold, jewelry…."  I later heard George declare, "I'm focused for business!" That was it. Just the business of another self storage auction…with a little bit of Hollywood (not that one up the road) added for extra fun.
Written by Ramon Matos