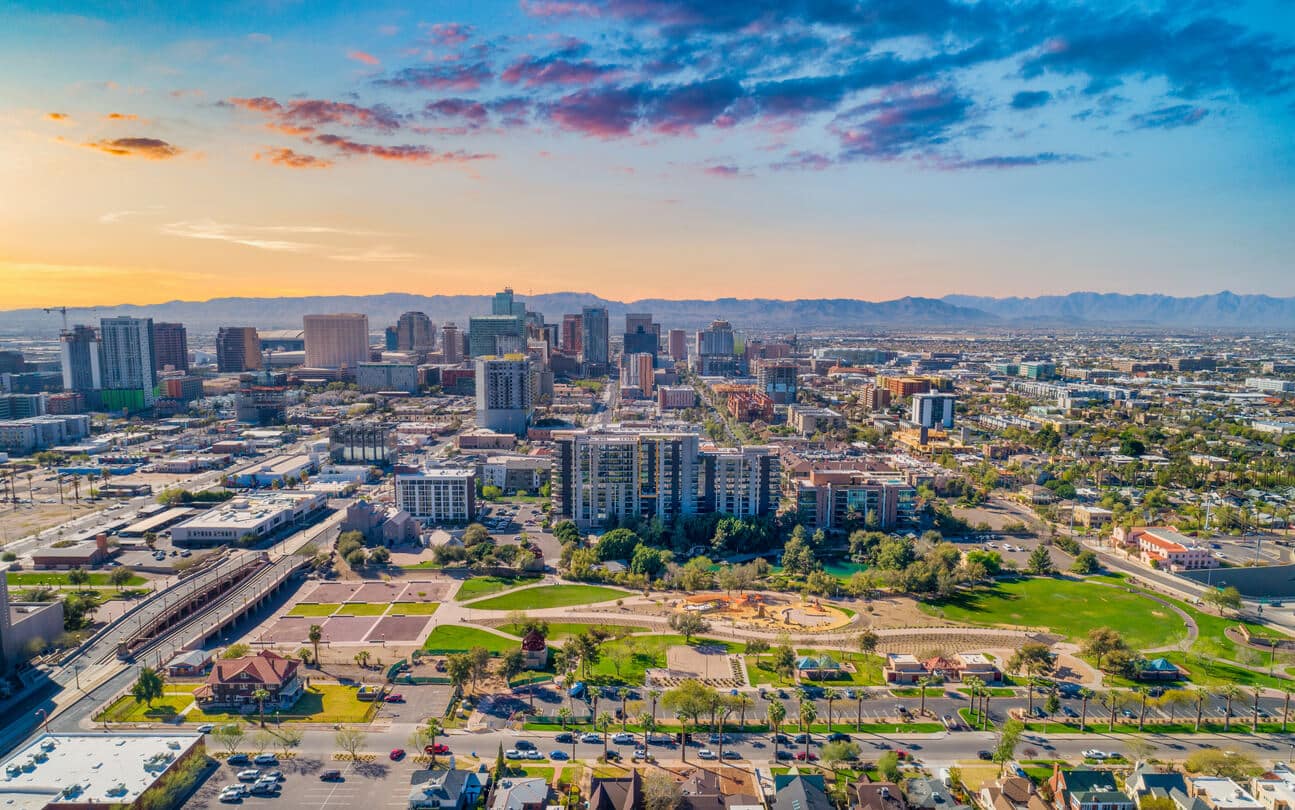 Thinking about relocating to Phoenix, AZ? This beautiful city has so much to offer residents, making it a comfortable place to call home.
Learn all about this amazing place and why you should consider a move to Phoenix.
1. Beautiful Weather
While some may think Phoenix is nothing more than a scorching hot desert with sand and tumbleweeds, this desert oasis has some of the best weather in the entire United States.
The city gets about 300 sunny days annually, giving residents plenty of Vitamin D. Temperatures during the summer can reach over 100°F, though this intense heat only lasts for a few months each year. The remainder of the year brings mild, dry temps ranging from highs in the 80s during spring to the 70s during fall and the 60s during winter. This means you'll have more than enough time to experience the great outdoors throughout the year.
2. Plenty of Outdoor Activities
There are so many fun things to do in Phoenix, including local parks, golf courses, and more. Let's take a look at some of the top Phoenix attractions so you know what to expect.
Desert Botanical Garden
This spectacular garden is home to more than 50,000 unique desert plants and attracts more than 450,000 guests each year.
Phoenix Zoo
The Phoenix Zoo hosts over 3,000 animals spanning over 400 different species, including elephants, otters, snakes, reptiles, birds, cheetahs, giraffes, eagles, wolves, insects, and so many others.
Papago Park
This local park is a popular part of town that covers the Phoenix Zoo, the Desert Botanical Garden, nearby baseball fields, the Hall of Flame Museum of Firefighting, and the Papago Golf Course.
Hurricane Harbor Phoenix
If you need a place to cool off during the summer, Hurricane Harbor is the best water park in Phoenix, with more than 30 water slides and other attractions.
Castles N' Coasters
This small theme park comes complete with two roller coasters, a video game arcade, an 18-hole mini golf course, thrill rides, and much more.
South Mountain Park and Preserve
The gorgeous landscapes at the South Mountain Park and Preserve offer a perfect backdrop for hiking, picnics, wildlife viewing, and beyond.
3. Top-rated Places to Eat
Delicious food can be found all over town when it comes to local eateries. At the most popular destinations, you'll find unique dishes like Sonoran hot dogs, fry bread, Route 66 burgers, chimichangas, and prickly pear lemonade.
A few of the best restaurants in Phoenix are Chelsea's Kitchen, Comicx Restaurant Bar & Store, The Capital Grille, Seasons 52, Postino Central, The Stockyards Steakhouse, The Gladly, and so many others.
4. Strong Job Market
There is a healthy job market in Phoenix, with good jobs available across a wide range of industries. The unemployment rate in Phoenix is only 2.7%, with more than enough jobs available for local residents. The most common spaces in the area are manufacturing, aerospace, IT, business services, tourism, and more.
Some of the largest employers in Phoenix include Banner Health, US Airways, the City of Phoenix, Salt River Project (SRP), Wells Fargo, Arizona State University (ASU), Intel, and JPMorgan Chase.
5. Reasonable Cost of Living
The average cost of living in Phoenix is about 1.5% higher than the Arizona average and about 3.7% higher than the national average. When it comes to typical expenses, you can expect to pay less than average for groceries and healthcare. On the other hand, you should plan on slightly higher home prices with a median home cost of about $346,100.
There Are Many Benefits to Living in Phoenix
Moving to Phoenix offers many advantages, including great places to visit, nice weather, good job opportunities, and more. If you're relocating to Phoenix and need somewhere to store extra items, the team at Value Store It is here for you. Visit our website to learn more about our Deer Valley self-storage units today!