Chrysalis, Inc. – Domestic Violence Services
Here's a thank you letter we received following our Wallingford Family Fun Day. Proceeds from our event helped support the Chrysalis, Inc. For more information on the Chrysalis Inc's Domestic Violence Services, please visit their website: http://www.mwchrysalis.org/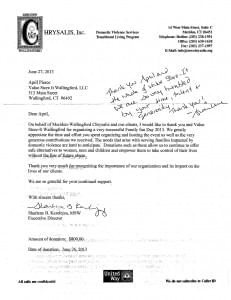 Chyrsalis, Inc.
Domestic Violence Services
Traditional Living Program
June 27, 2013
April Pierce
Value Store It Wallingford, LLC
513 Main Street
Wallingford, CT 06492
Dear April, On behalf of Meriden-Wallingford Chrysalis and our clients, I would like to thank you and Value Store It Wallingford for organizing a very successful Family Fun Day 2013. We greatly appreciate the time and effort you spent organizing and hosting the event as well as the very generous contributions we received. The needs that arise with serving families impacted by domestic violence are hard to anticipate. Donations such as these allow us to continue to offer safe alternatives to women, men and children and empower them to take control of their lives without the fear of future abuse.
Thank you very much for recognizing the importance of our organization and its impact on the lives of our clients.
We are so grateful for your continued support.
With sincere thanks,
Sharlene B. Kerelejza, MSW
Executive Director
Amount of donation: $800
Date of donation: June 26, 2013
P.S.
Thank you to April and the whole team at Value Store It. We are so very humbled by your time, talent, and generosity!