Business Storage Options for Office Spring Cleaning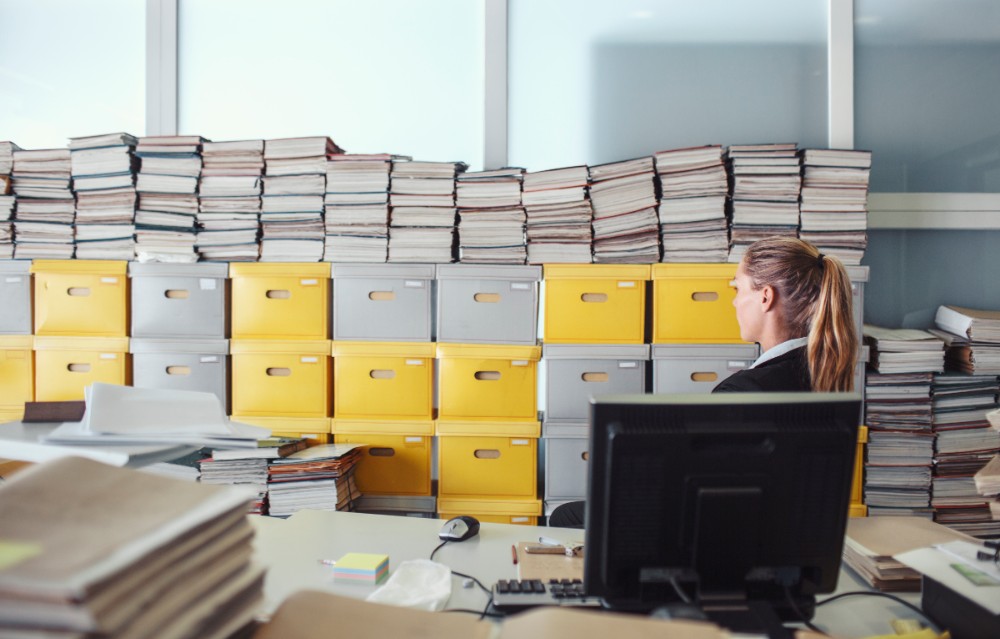 It's that time of year again—office spring cleaning time!
As you gear up to declutter, dejunk, and organize your office, there are a few things to keep in mind. When cleaning the office, consider making a day of it. Involve all in-house employees and delegate any office spring cleaning tasks that are relevant to individual employees. As a manager, owner, or CEO, there may be a few higher-level cleaning tasks for you to tackle. Delegate what you can, and do what you can't delegate.
If you can't be onsite to delegate, make a list and a schedule for your office to follow. Set a designated task manager and walk them through the plan before the start of office spring cleaning day. The more organized you are beforehand, the easier it will be to make sure that your office spring cleaning goes off quickly and without a hitch.
Office Spring Cleaning Tips and Tricks
These office spring cleaning tips and tricks will make the job go smoothly:
Make a list before the cleaning starts
Gather all cleaning supplies before the designated cleaning day
Don't spread the process out, get it all done in one day
Dejunk and declutter before you organize
Purchase organizational bins to help keep the office clean throughout the year
Make sure to deep clean with cleaning supplies as you go
Before you throw unused office equipment or materials away, consider donating
Have an offsite storage location picked out
Start by cleaning individual spaces and then move to communal spaces
Make sure no employees are allergic to the chemicals you are planning to use for cleaning before you use them
Bring boxes for employees to take unused personal items home
Make cleaning more enjoyable by providing food and drink for everyone
You set the tone and attitude for the whole spring cleaning process, so do what you can to keep things fun and upbeat. The happier your employees are to be cleaning alongside you, the faster the job will get done.
Office Spring Cleaning Storage Solutions
As you clean, you'll likely find that your office has tons of extra "stuff" taking up a lot of useful space. One task you, your manager, or CEO will probably have to tackle is finding a place to store unused office furniture, office supplies, and business materials. Oftentimes, the easiest and most cost-effective way to store your business items is at an offsite storage location.
Offsite storage locations are great because they are usually temperature controlled and provide a safe space for you to store your belongings without having them around the office creating unwanted clutter. Growing companies in need of more room but without a big budget that allows them to switch to a new office are especially in need of an off-site storage option for their space. These storage facilities are affordable and much more economical than moving to an entirely new office.
Renting a storage unit can also be tax deductible. As you start the process of looking for a rental facility, check with your accountant to see if saving space can also save you money.
Tips for Picking a Storage Facility
If renting a storage facility seems like the right fit for you, check out these tips when it comes to picking the perfect storage spot:
Pick a facility with the option to rent different sizes of storage units
If necessary for your equipment, look for climate controlled units
If you plan to grow, consider renting a larger unit and then growing into it instead of renting small and having to move units once you've grown
Consider taking out a protection plan or storage insurance
Think of how often you will be visiting the unit to determine the location and type of unit
As a bonus, see if the storage unit facility offers free truck rentals to move inventory to the unit
If you have storage rental needs for your business, don't wait and let your office fill up with clutter. Contact Value Store It Self Storage today for more information on storage rentals and we'll help you locate a self-storage facility near you!